Liquid plastic – seamless waterproofing insulation
Liquid plastic is a waterproofing material, which creates durable and seamless  waterproofing insulation. The liquid plastic hardens after 20 minutes of its application and it can be applied even during winter, for its point of freezing is at -20°C. Flex Floor can be applied even on wet surfaces.
Liquid plastic has excellent 100% adhesion to the surface, it is UV resistant and waterproofing after 20 minutes of its hardening.
These and its other features ensures, that Flex Floor is a perfect waterproofing insulation for, roofs, pools, patios, foundations and bottom structures. Moreover, it is easily applicable by brush or by a roller.
Liquid plastic is packed in buckets ranging from 3 kg to 20 kg. This packaging enables easy manipulation even in hardly accessible places.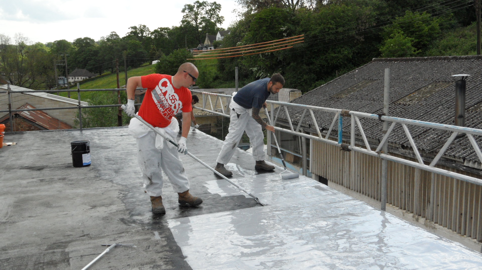 Liquid plastic – characteristic:
anti-slip, waterproofing material
seamless insulation, which takes only 20 minutes to harden after application
application to  -20°C
application possible on wet surfaces
100% adhesion, elastic
durable and longlasting ( approx. 40 years)
easy application ( brush, roller )
posiible DIY reapair or application (lowering of the costs)
homogenous high quality surface without seems
smooth and neat surface
the repaired parts will perfectly merge with new layer of liquid plastic
Liquid plastic is UV resistant
It is resistant against atmospheric impacts
consumption/qm =  0.5kg – 1kg 
Follow the user's instructions! (downloadable here).
Liquid plastic – application:
roofs
balconies
loggias
patios
foundations
industrial floors
pools
gutters
bottom structures…
You may also be interested in: